Tag: 1st place
Three tough long runs to Lake Erie proved to be the right decision for Elite Angler Chad Pipkens whose three day total of 67-4 gave Pipkens the Bassmaster Northern Open Lake St. Clair victory and his first Bassmaster Classic berth!
Chad Pipkens of Holt, MI won the co-angler title and $25,000 with a three-day total of nine bass weighing 22-15 at the Beaver Lake FLW Tour Major event.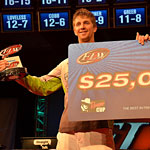 Chad Pipkens has always been competitive as a Walmart FLW Tour co-angler. In fact, he's qualified for the Forrest Wood Cup three times and notched five top-10 finishes. Today he closed the book on his co-angler career by winning the third Major of the season on Beaver Lake.