Tag: flw tour
Chad Pipkens of Holt, MI won the co-angler title and $25,000 with a three-day total of nine bass weighing 22-15 at the Beaver Lake FLW Tour Major event.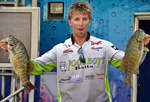 It's been quite a run recently for pro Chad Pipkens. After winning the Beaver Lake Major from the back of the boat, Pipkens stepped up and won the points race in the BASS Northern Opens. In his first FLW Tour event from the front deck, he finished third with a total weight of 77 pounds, 14 ounces, earning $27,040.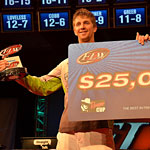 Chad Pipkens has always been competitive as a Walmart FLW Tour co-angler. In fact, he's qualified for the Forrest Wood Cup three times and notched five top-10 finishes. Today he closed the book on his co-angler career by winning the third Major of the season on Beaver Lake.