Tag: flw tour
Chad Pipkens of Holt, MI won the co-angler title and $25,000 with a three-day total of nine bass weighing 22-15 at the Beaver Lake FLW Tour Major event.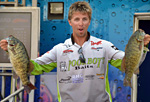 After winning Beaver Lake from the back deck, Chad Pipkens stepped up in his first FLW Tour event from the front deck finishing third at Detroit River with a total weight of 77 pounds, 14 ounces.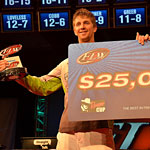 Chad Pipkens has always been a competitive FLW Tour co-angler today closing the book on his co-angler career by winning on Beaver Lake, the third Major of the season.