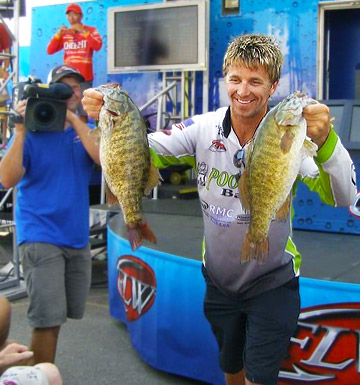 Chad Pipkens is a professional bass tournament and Bassmaster Elite Series Angler from Dewitt, Michigan (formerly Lansing and Holt).
Check out Chad's Angler Profile for some of history about his fishing accomplishments, personal information, favorite place to fish, what he considers his strong suit in fishing and more.
Chad competed for his first season in 2013 on the Bassmaster Elite Series thanks to his 2012 Bassmaster Northern Opens Points Championship! Pip will compete in his 10th Elite Series season in 2022, and has qualified for the 2022 Bassmaster Classic – his fifth appearance!
Chad also runs an interior/exterior painting business in the Greater Lansing, Michigan area – Full Color Painting LLC.
Get Social with Chad Pipkens
A Few Past Accomplishments
Besides the 2012 Bassmaster points championship, Chad also won the co-angler title in his final tournament fishing from the back deck at the 2012 FLW Tour Beaver Lake event, took 3rd place in his first professional FLW Tour event fishing from the front deck at the 2012 Detroit River Open and won three Walmart BFL events in three years in June (2008-2010) on Michigan's Burt and Mullett Lakes with amazing stringers of giant smallmouth bass weighing 27-05, 27-13 and 27-10! Chad is a smallmouth bass sight-fishing expert but has proven he can catch big sacks of bass throughout the year on many different lake and river systems.