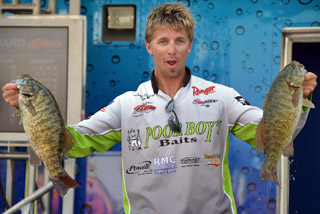 27.Aug.2012 by Brett Carlson TRENTON, Mich. (Aug. 26, 2012) – It's been quite a run recently for Holt, Mich., pro Chad Pipkens. After winning the Beaver Lake Major from the back of the boat, Pipkens stepped up and won the points race in the BASS Northern Opens. In his first FLW Tour event from the front deck, he finished third with a total weight of 77 pounds, 14 ounces, earning $27,040.
"I fished Erie exclusively, mainly along the north shore near the Cedar Beach area, just past Colchester," said Pipkens. "Yesterday it took me 15 or 20 minutes to get there, but today in those 4-foot waves it took an hour and 15 minutes."
While many others who were fishing Erie turned back, Pipkens stayed the course and caught a 19-pound, 3-ounce limit. He still sampled a dozen spots and hit a few of the better ones multiple times.
"I had to drive slow to get there, but I knew the fish were still going to bite. I don't spend a lot of time on any one area. I come to the fish. I'm not going to wait for the fish to come to me."
Pipkens caught all of his smallmouths drop-shotting a Poor Boy's Erie Darter (smoke color) in 18 to 22 feet of water. He mainly used a 3/8-ounce weight but upsized to a 1/2-ounce with the blustery weather. Pipkens said the key to his success was realizing the fish were not relating to structure but instead sitting in nearby gravel depressions. While the action was fast and furious on St. Clair, Pipkens was only getting six to eight bites per day on Erie.
"I missed two big ones yesterday and one today and that's tough when you're getting so few bites. But just about every bite I got was between 3 1/2 and 6 pounds. The fish that are out there are the fish to win."