Beaver victory means new beginning
28.Apr.2012 by Brett Carlson / FLW Outdoors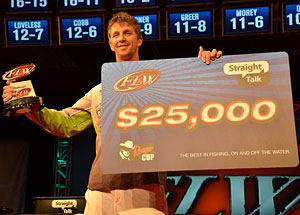 ROGERS, Ark. – Chad Pipkens has always been competitive as a Walmart FLW Tour co-angler. In fact, he's qualified for the Forrest Wood Cup three times and notched five top-10 finishes. Today he closed the book on his co-angler career by winning the third Major of the season on Beaver Lake. And next spring, he'll start a new chapter as a professional bass fisherman.
Pipkens, a native of Holt, Mich., entered a couple events this season to stay sharp while at the same time saving money for next year's venture. But after catching a 10-pound, 12-ounce stringer on day one, he knew this tournament suddenly had substantial profit potential.
"I love fishing tough tournaments because every bite counts," Pipkens said after day one. "And I got the big bites that made all the difference."
Day two was much slower as Pipkens caught only a single keeper weighing 2 pounds, 1 ounce. He'd been down this road before – close but no cigar. In fact, he claims he had the fish on to win Table Rock just a month earlier. On day three at Beaver, Pipkens drew former FLW CEO Charlie Evans and the two ran up the river to fish shallow, dirty water.
"I hadn't fished shallow all week, so it was definitely an adjustment," he said. "While Charlie was fishing close to the bank I tried to target the deeper side on the edges of lay-downs."
Earlier in the week, Pipkens had used an umbrella rig, a topwater walking bait and a drop-shot. But in the dirty water, he employed a 1/2-ounce white and chartreuse War Eagle spinnerbait. Almost immediately it was a success.
"At about 8 this morning I caught that big one and I had my other two fish a couple hours later. I knew then I would be tough to beat with over 20 pounds. I mean I caught a 4 1/2-pounder the first day and a 5-11 the last day on Beaver Lake. If that isn't meant to be I don't know what is."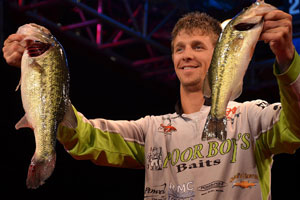 Pipkens dedicated his huge kicker to his father, who is home having surgery on his Achilles. His three bass officially weighed 10 pounds, 2 ounces and he won by over a 4-pound margin. For a total weight of 22 pounds, 15 ounces, he earned $25,000.
"I only signed up for two events this year and this is my last one. I think someone is telling me to jump over to the other side. The trophy is great, but the bottom line is that I know what it takes to fish the pro side. That $25,000 allows me to put my deposits in and look for some other business deals knowing I'm going to fish."
Pipkens isn't completely done with the 2012 tournament season. In August, he's signed up to fish as a professional in the FLW Tour Open on the Detroit River and Lake Erie, his home waters.
"I'm really looking forward to that one. But what a way to finish up in my last co-angler event ever. I really can't explain what I'm feeling; it's amazing."