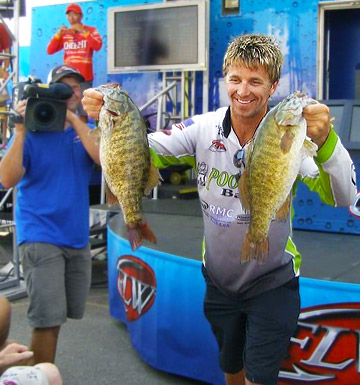 You can register to win a day on the water with Bassmaster Elite Series Pro Chad Pipkens Friday and Saturday, January 25 and 26, 2013 at the Poor Boy's Baits Customer Appreciation Days! Chad will be on hand Saturday at Poor Boy's Baits for the activities.
Customer Appreciation Days runs from 8:00AM – 5:00PM on Friday and 7:00AM – 4:00PM on Saturday. Make sure you register at their shop for the drawing before 3:00PM on Saturday when a lucky winner will score a day on the water with professional bass angler Chad Pipkens!
Chad's sponsor Poor Boy's Baits will have FREE coffee and donuts each morning and FREE hot dogs for lunch. Tons of clearance and sales items will be available including a rare sale on Chad's secret sight-fishing weapon – The Flogger – the famous orange cone used by Chad and other sight-fishing experts to bag giant catches of giant smallmouth bass only $90.00 at this event!
Poor Boy's Baits is located at 513 W. Central Ave in LaGrange Indiana (Zip 46761). Contact them at 260-463-2687 if you have questions about this event or any of their excellent products like the awesome Erie Darter!
2013 Poor Boy's Baits Customer Appreciation Days Flier (PDF)