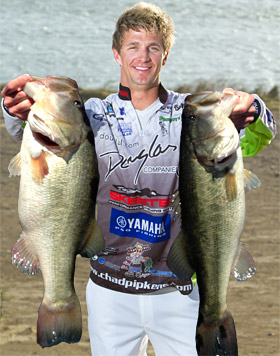 Chad Pipkens and Costa are giving you a chance to win a FREE pair of Costa sunglasses.
Just head over to Chad's Facebook page and post your guess for the Bassmaster Elite Series Falcon Lake tournament total winning weight on the contest topic! The person who guesses closest to the 4-day winner's weight without going over wins Costa Sunglasses, their choice, up to a $250 value! Make your guess by 11:59PM on March 20th!!
Also, you can support a Great Cause – Douglas J's Scott Weaver and Chad Pipkens are promoting clean water and benefiting the Alliance for the Great Lakes with an all day fishing Grand Finale on April 22nd!
You can participate too! The winner of the fishing contest and who raises the most money for charity will throw the loser into the lake! Help Chad send Scott swimming by donating* to TEAM CHAD now at MakeWaterMatter.com! You'll help Chad stay in the boat and benefit the GREAT LAKES at the same time!! Please stay tuned for more here and on Facebook!
* $10 minimum donation