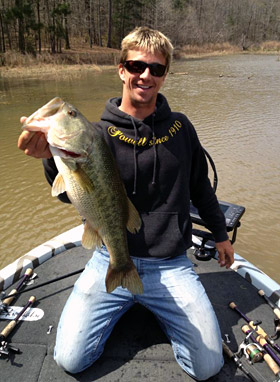 Guess the Winning Weight for the Bassmaster Elite Series Bull Shoals tournament and win Costa Sunglasses, a Powell Rod or Douglas J Gift Card!
There are only two steps to win! Visit the contest post on Chad Pipkens' Facebook page for complete details. You need to enter before 11:59 PM Wednesday April 17th!
The three persons who finish the closest to the Bassmaster Elite Series total winning weight without going over and donate to TEAM CHAD at MakeWaterMatter.com get their pick of the COSTA SUNGLASSES, a POWELL ROD or a $150 DOUGLAS J GIFT CARD, winners' choice in the order you finish!
Keep updated on the latest fishing info and fun contests from Chad Pipkens during this rookie 2013 Bassmaster Elite Series tour by Liking Chad Pipkens' Facebook page! You can follow Chad on Twitter too @ChadPipkens! Please use the Share features below to tell your friends about this contest and the charity causes that Chad supports! Thank you!