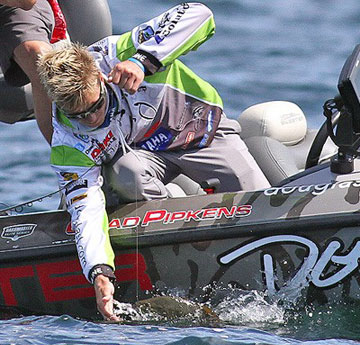 Chad Pipkens bagged his first top ten finish of his rookie 2013 Bassmaster Elite Series season with a 10th place at the St. Lawrence River Showdown Sunday, August 11. Pipkens completed four days of tournament competition in New York with 20 bass weighing 76 pounds even after his final day limit of 15 pounds 9 ounces.
Pip takes home $11,500 for the 10th place finish after making the final 12 angler cut in 6th place after Saturday. He weighed in limits each of the first three days of the 2013 St. Lawrence River Showdown of 20-4, 21-12 and 18-7 fishing a drop shot in the St. Lawrence River.
Pipkens alternated baits on his drop shot rig between the new Damiki Ghost Shad and a Poor Boys Erie Darter. Pipkens had this to say after the weigh in, "Thanks for all the support people! It's been unreal! Ended up finishing 10th today for my first Elite Series cut. Should get some decent TV a week from today on Sunday morning at 8am on ESPN2!!"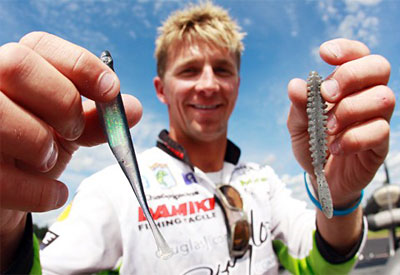 You can find more coverage of the 2013 St. Lawrence River Showdown on Bassmaster.com. ESPN2 TV coverage of the Showdown will air August 18 at 8-9am ET, and again on September 7 at 6-7am ET. ESPN Classic will air the show August 18, 10-11am ET, and September 8 at 8-9am ET. In addition, The Outdoor Channel will present the Showdown September 16. For times, check local listings.
The next Bassmaster Elite Series event for Chad Pipkens will be the Plano Championship Chase on Lake St. Clair/Detroit River – Detroit, Michigan, August 22 – 25, 2013 from the Lake St. Clair Metropark.
Pip is already back home in Michigan preparing for this important final regular event of the season, sharing this with his Fans on Facebook early this morning, "Amazing week in New York this past week! Just drove all night and got back to Michigan… Time to get to work and paint a house this week and then get ready for St. Clair! Maybe take a break come Christmas!"
Please remember to help Chad add the 2013 Toyota All-Star Week tournament in Muskegon, Michigan to his schedule by voting every day at Bassmaster.com/Vote for Chad as your Fan Favorite Angler! You could win a 2014 Toyota Truck!