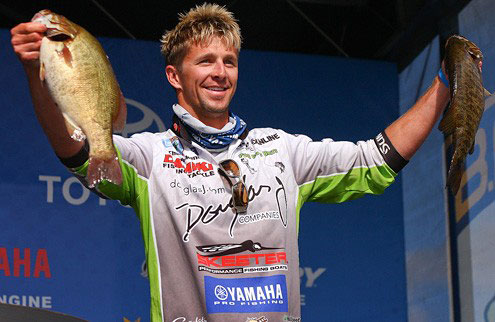 Chad Pipkens is fishing his first Bassmaster Elite Series final of his rookie season after vaulting into 4th place on the St. Lawrence River. Chad is one ounce out of 3rd place with a three day total of 60 pounds 7 ounces after jumping from 11th place on day one to 6th place on day two.
Only the top 12 anglers fish the final day of the Bassmaster Elite Series event in Waddington, New York. Chad trails 2nd place angler Jonathon VanDam by 1 pound 4 ounces, and leader Brandon Palaniuk by 5 pounds. With the risks Palaniuk is taking for his wire-to-wire lead, it isn't inconceivable for Chad to have a shot at his first Bassmaster victory and an automatic 2014 Classic berth!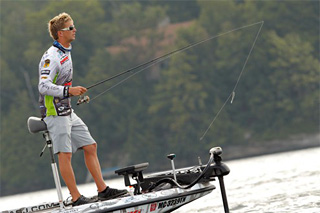 Chad has weighed in limits each of the first three days of the 2013 St. Lawrence River Showdown of 20-4, 21-12 and 18-7 fishing a drop shot in the St. Lawrence River. The weigh-in will begin at 3 p.m. ET. Sunday, August 11 at Whittaker Park in Waddington, New York.
Bassmaster.com will continue its extensive coverage of the Evan Williams Bourbon Showdown. Features include streaming video of the weigh-ins, real-time leaderboards, from-the-water BASSCam videos and blog reports, and Toyota Hooked Up! shows streamed live on Bassmaster.com with hosts Tommy Sanders and Mark Zona. All access is free.
ESPN2 TV coverage of the Showdown will air Aug. 18 at 8-9 a.m. ET, and again on Sept. 7 at 6-7 a.m. ET. ESPN Classic will air the show Aug. 18, 10-11 a.m. ET, and Sept. 8 at 8-9 a.m. ET. In addition, The Outdoor Channel will present the Showdown Sept. 16. For times, check local listings.