Chad Pipkens gets some good coverage in the Bassmaster Elite Series Delaware River tournament in the day 1 recap video – August 7, 2014. Pipkens finished day 1 sitting in 6th place with a 5-bass limit weighing 11 pounds 4 ounces!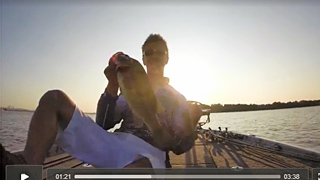 From Bassmaster.com August 8, 2014 GoPro video post – Hop on the boat with Elite Series pros as they attack the Delaware River on Day 1. This is a compilation video of various competitors but Chad is featured 4 times in the video for a few seconds each time including two awesome fish catches at 00:19, 00:59, 01:42 and 03:30!
Chad finished the Delaware River event with a great 12th place showing for his 17 bass weight 30 pounds 9 ounces good for $10,500 check and has him sitting in 5oth place in Angler of the Year (AOY) standings with 394 points with only the final Cayuga Lake event left on the regular schedule.
"Video no longer available"