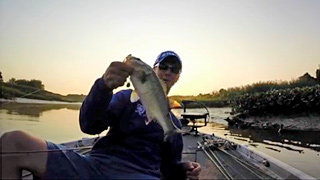 Chad Pipkens earned his best finish of the 2014 Bassmaster Elite Series season with an impressive 12th place on the tides of the Delaware River in Philadelphia, Pennsylvania. Pipkens' 17 bass weighing 30 pounds 9 ounces was good for a $10,500 payday. More importantly his final day finish has Chad sitting in 5oth place in Angler of the Year (AOY) standings with 394 points.
Check out the great Bassmaster GoPro video above of Chad's day 3 (August 9, 2014) fishing success on the Delaware River that powered him into 9th place above the top twelve cut fishing another Bassmaster Elite Series final! His 5-bass limit weighed 8 pounds which was enough on the challenging Delaware River tidal fishery for his best 2014 Elite Series finish to-date.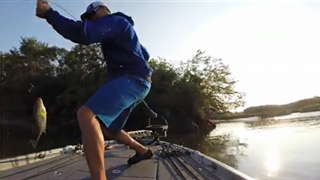 With only the final Cayuga Lake event left on the regular schedule, the Northern lake fishing on the New York lake, where Pipkens finished 19th in a Bassmaster Northern Open last August, could be his ticket to the new Bassmaster Elite Series AOY Championship!
The top 50 Elite Series Anglers in AOY points will compete on Escanaba's Bays de Noc in Chad's home state of Michigan September 18 -21. Chad has been scouting up there and put a quick 23 lbs. limit in the boat on his first scouting day! Let's hope Chad brings home another great finish at the upcoming Cayuga Lake Bassmaster tournament so he has a crack at Escanaba and the Bassmaster Classic!
If you want more of Chad Pipkens' Bassmaster bass tournament history check out his related articles on Bassmaster.com!
"Video no longer available"