Three tough long runs to Lake Erie and back proved to be the right decision for Elite Angler Chad Pipkens whose three day total of 67-4 gave Pipkens the Bassmaster Northern Open Lake St. Clair victory and his first Bassmaster Classic berth!
Pipkens was sitting in 2nd place going into the 3rd and final day almost 4 pounds behind another Michigan bass pro – Joe Balog. Balog experienced motor problems early on day 3 and did not get back on the water until noon. Though Balog was actually fishing the entire tournament very close to the Lake St. Clair Metropark launch ramp, not making the long runs to Erie that many assumed, he did not have enough time left to do better then 3 bass for 8-3. Balog weighed in last and finding out he was fishing very close to the launch ramp did not dampen the suspense considering he boated the largest limit of the tournament – 25-2 – from that one spot on day 2.
Balog broke the tension explaining he was unable to get on the bigger bass after restarting the tournament late on day 3 at noon despite large efforts by Rose Marine and friends like Mark Modrak who brought his boat down for Joe to use.
Thanks to the dependability of his Skeeter Yamaha bass rig and his time management, Pipkens finished almost 4 pounds ahead of 2nd place finisher Fletcher Shryock weighing his biggest limit of the tournament on day 3 – 5 smallmouth bass for 23 pounds 6 ounces! A change in wind direction gave Pipkens more than the 2 hours fishing time he was limited to on the 1st two days of the tournament. Big waves, the difficulty fishing in them and the long, hard run back to the Lake St. Clair Metropark reduced his fishing time on days 1 and 2 drastically.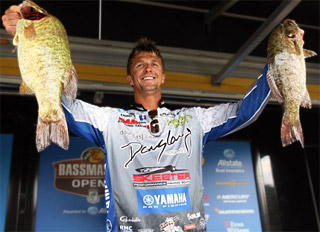 Boat races in the Detroit River on day 3 almost cost Chad his big victory and the all-important 2015 Bassmaster Classic berth though! Despite coming in over 1 extra hour early to make it through the closed and restricted area during an open period race officials had provided, an unexpected 1 hour and 10 minute delay by race officials gave Pipkens only 10 minutes to spare. Those were 10 minutes Pip used to calm his nerves before one of the most important weigh ins of his short professional bass fishing career.
By competing in all three 2014 Bassmaster Northern Opens and winning the final Lake St. Clair bass tournament event Pipkens earns an invitation to the 2015 Bassmaster Classic. Pipkens will fish his first Classic February 20 – 22, 2015 in Greenville, South Carolina on Lake Hartwell.
Make sure you check back late Thursday or Friday this week at ChadPipkens.com, or on Facebook: www.facebook.com/ChadPipkens, for Chad's purple Mohawk pictures as he promised the Bassmaster tournament director if he won this event, he would have the hair geniuses at Douglas J Salon do something interesting this Thursday to his famous hair.