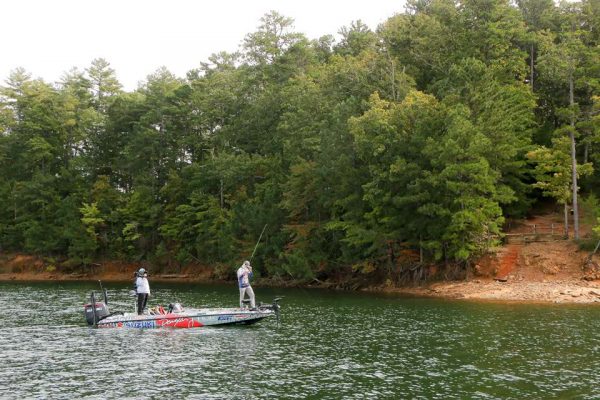 As the 2018 fishing season came to a close, Chad Pipkens was hunting for his berth to the 2019 Bassmaster Classic, which will take place Knoxville, Tennessee. Although he was just outside the cut in the Elite Series AOY points, there were two more opportunities ahead to qualify for the Bassmaster Classic that Pipkens was searching for: a first place in the AOY Opens Championship and top three at the Bassmaster Classic Bracket.
Stop #1: AOY Opens Championship
The AOY Opens Championship was held at Table Rock Lake in Missouri on October 18-20. This tournament consisted of the top 28 anglers that fished in the Central and Eastern Opens. Since Pipkens could not move up enough in the Opens points system to qualify, he had to be #1 in order to make it to the Bassmaster Classic — no pressure!
Day 1 at Table Rock proved to be tough, but Pipkens pulled off an 11th place with 9 lbs. 6oz. Although it was a good day, this weight put him 6 lbs. below the first place fishermen, so Pipkens had his work cut out for him; remember — he needed to win this tournament! Day 2 was a bit more challenging, and Pipkens dropped to 21st place with a total of 18lbs. 7oz. So, on to the next one! Better to start practicing for the next tournament if he wasn't going to get that win.
Stop #2: Classic Bracket
The Bassmaster Classic Bracket took place at Carters Lake in Georgia on October 23-26 — back to back with the Opens Championship. Pipkens was the only angler at the Classic Bracket that was also at the Opens Championship, so he was more than ready to get that berth to the Bassmaster Classic.
There were 16 anglers on day 1 of the tournament, and the last 4 were sent home at the end of that 8 hour day according to their total weight of 5 fish. Then, the fishermen were seeded for day 2 and 3 relative to their places on day 1. For example, the fisherman in place 1 was paired with the fisherman in place 12, 2 and 11, 3 and 10, etc. Ending day 1 in 8th place, Pipkens was paired with number 5… Chris Lane. They fished the afternoon on day 2 for three hours, and Pipkens was leading Lane by 12 ounces. Day 3 was from 8am to 11am for Lane and Pipkens, and within the first hour Lane captured a 4lb. 10oz. fish that put him well ahead of Pipkens. A while later, Pipkens caught a fish for the lead… but little did Pipkens know that Lane was catching a 3lb. 3oz. fish simultaneously.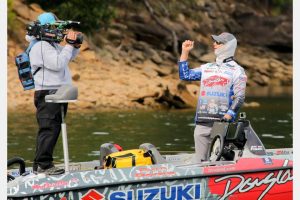 This tournament was a live scoring tournament, therefore the fish were caught, weighed, and released back into the water. The anglers also received score updates on their opponents as they occured. Pipkens did receive the notification that Lane was back in the lead, and knew he was on the hunt for big mama in a hurry. Unfortunately, the buzzer went off before that big fish could be found for Pipkens, which means Lane would move forward and Pipkens would go home.
Although these last two tournaments didn't end up in Pipkens' favor, his optimistic attitude prevailed. During day 2 and 3 of the Classic Bracket, there were video cameras in each of the boats to stream the day on the water LIVE. Pipkens' spirit remained determined and focused, but he was also able to keep it entertaining for his followers. Instead of being worried about having only one hour left in the fishing day, Pipkens would refer to it as "happy hour" and continued to fight on until the last minute. He even gave the viewers a few Kung Fu Karate kicks after a couple fish catches, which quickly became renamed "Pip-kicks". Although disappointed about not qualifying for the Bassmaster Classic, Pipkens put in 100% of his effort and will continue to give it his all in the 2019 Bassmaster Elite Series Tour in order to qualify in 2020.