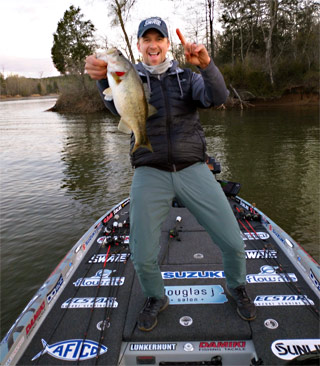 The only constant this season… Things are always changing. After a less than mediocre event at Santee Cooper I was hoping to get back on track at Chickamauga. As before, it almost played out like that. But this time I just spent most of my time in the wrong areas when looking back at the situation as a whole.
Practice for this event was very similar to our previous events. Very cold and very tough! The water was down four feet and cold which had the fish in a big funk. The first day of practice I caught 15 or 20 fish but never managed a keeper! The second day I caught two, and one was a three-pounder, and one was close to eight! It was starting to look like one of those tournaments that was going to develop as the week wore on, and that's exactly what happened.
The third day of practice actually gave me one of those false clues and pointed me in the wrong direction! I love fishing grass and was about to give up on it after a couple days with minimal results. A small front came in on that last day of practice and it just became easy to get bit in the grass. Ended up catching six or seven nice keepers and felt like I could start to put it together. Unfortunately this low pressure with no wind was activating those fish and it turned off from there!
Day 1
I started day one fishing a stretch a little up the river that had the right stuff that I thought fish could be moving up into. This is really what I should've done the entire tournament. I believe I would've had a good event. After catching a nice three-pounder right off the bat I caught a couple other short fish. From here I went fishing grass.
Little did I know, I had already missed the window when those fish bit in the morning. I caught one more keeper here, and lots of shorts, and just wasted too much time. Ended up going back shallow the last hour and a half or so around some docks and had three keeper bites, one of which I lost, and the other two I caught to give me a decent day one start, but with only four fish.
Day 2
Day two I chose to start in a different area but just didn't make the adjustments needed. After no success in the live well I slid back to my grass area and immediately got a decent keeper. I really thought it was going to happen.
After getting sucked in, and catching a bunch of shorts and one more keeper, I realized I had missed the morning window again, and much of the day was wasted. I tried to bounce around and had limited success on the docks. With 40 minutes left I made a great decision to salvage some points and went back to where I started on day one. I immediately caught a 2 1/2 pounder on a spinner bait, and another one close to 3 1/2 pounds on a jerk bait.
Bottom Line
Great decision to save some points, but came up one fish short of a limit again! Ended up with a 68th place finish. Bottom line here is I need to make some of these decisions quicker and make adjustments as the tournament goes on. I felt like I did a good job committing here but unfortunately I committed to the wrong thing! Head up and get back on track in Texas!