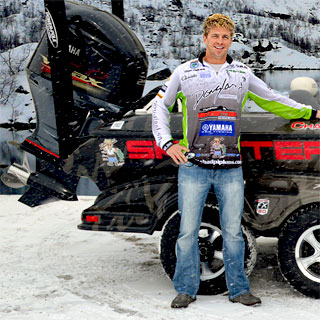 Kennesaw, GA February 6, 2013 – Yamaha Marine Group announced today that it has added five bass anglers to the 2013 Yamaha Pro Team including Holt, Michigan professional bass angler Chad Pipkens.
"Every year, the Yamaha Pro Team gets stronger and with the addition of these five pros, 2013 is going to be the best year yet," said David Ittner, Tournament and Pro Staff Manager, Yamaha Marine Group. "The incredible talent and professionalism these anglers bring to the table is a great testament to the Yamaha brand. We are proud to have them as part of the team."
Chad Pipkens, a native of Holt, Mich., has been fishing bass tournaments for 13 years. A winner of the BFL points and the Bass Northern Open points titles, Pipkens is a three-time BFL champion and an FLW Tour event co-angler champion. He also has 23 top-ten placements in 86 events between BASS and FLW. 2013 marks his first full year as a professional angler. Chad will be competing on the Bassmaster Elite Series.
"I am very excited to join the Yamaha Pro-Staff and have the privilege of running the best and most reliable engine on the market," said Pipkens. "Angler performance is based largely on confidence. When I am confident that my engine will do what I need it to do, I can focus on fishing. I am ready to get after it!"
Yamaha Marine products are marketed throughout the United States and around the world. Yamaha Marine Group, based in Kennesaw, Ga., supports its 2,000 U.S. dealers and boat builder partners with marketing, training and parts for Yamaha's full line of products and strives to be the industry leader in reliability, technology and customer service. Yamaha Marine is the only outboard brand to have earned NMMA®'s C.S.I. Customer Satisfaction Index award every year since its inception. Visit www.yamahaoutboards.com.