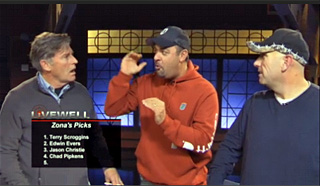 Mark Zona picks Chad Pipkens 4th for his 2013 'pure draft' Bassmaster Elite Series Fantasy Fishing Team on the Livewell Video!
The Livewell Video – Livewell talks Fantasy Fishing
At about the 4:31 minute mark of the video, Zona goes for his 4th Fantasy Team pick and says, "Now here's what I'm going to throw at you. Get ready. I'm going to throw two rookies up. I'm going to throw Michigan a little love and give me some Chad Pipkens for when we get up North! I know I'm crazy!" Big Zona grin!
The look on Tommy Sanders face is priceless. Tommy replies, "Wow! You are nuts. You are absolutely nuts."
Does Zona know something the rest of them don't? We'll find out as the 2013 Bassmaster Elite Series plays out!