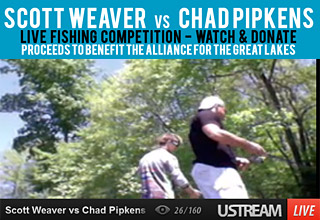 Chad Pipkens and Douglas J CEO Scott Weaver are fishing LIVE on video today from 9AM until 7PM, Earth Day April 22, 2013, to benefit the Alliance for the Great Lakes! The winner gets to throw the loser in the lake!
Help a great cause and watch some live fishing at www.MakeWaterMatter.com now! You can still save Team CHAD from a dunking by donating now!
Douglas J Companies is partnering with Chad Pipkens to help raise money for the Alliance for the Great Lakes as well as breast cancer and juvenile diabetes during Chad's rookie 2013 Bassmaster Elite Series season.
Scott Weaver, CEO of Douglas J, partners with AVEDA every year in April to raise money for clean water. Since 2006, Douglas J has raised over $140,000 for the Alliance for the Great Lakes.
Go to makewatermatter.com now until the finale at 7PM to watch a live feed of Chad and Scott competing for a good cause and a swim!