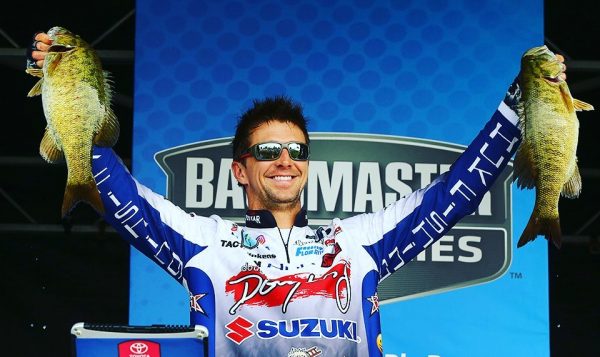 Well… the 2019 season is a wrap and Chad Pipkens is Bassmaster Classic bound! This year on the Bassmaster Elite series Pipkens had several successes, and he ended up in 30th place in the Angler of the Year standings with a total of 681 points. Pipkens also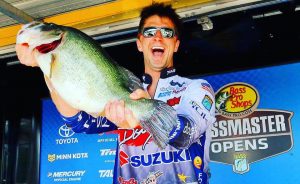 participated in the Bassmaster Opens on the Eastern division, in which he finished 11th in the points. Let's take a look at Pipkens' year in a nutshell…
First stop for Pipkens was the Eastern Open at Harris Chain, Florida. Here, Pipkens landed in 109th place with 17 lbs. 5 oz.
Next was the Elite event at St. John's River, Florida where Pipkens came in 51st place and 24 lbs. 2oz.
Lake Lanier, Georgia was the second Elite event, in which Pipkens landed a 54th place finish and 22 lbs. 11oz.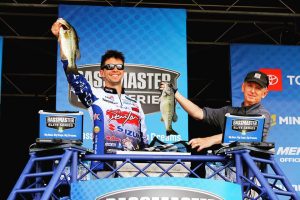 Between February and April there was a gap in tournaments for Pipkens, as he did not qualify for the Bassmaster Classic, which was held in March. During this time he suffered from an unfortunate injury while playing ice hockey. Pipkens broke his left collar bone in several places, which required surgery, including 7 screws and a plate to reform his bone. The orthopedic surgeon said that it would take 8-10 weeks to heal, which did not give Pipkens much time before the next event. However, Pipkens was determined to fish. Four weeks later, Pipkens was still sore, but found a way to fish!
Elite series stop #3 was at Lake Hartwell, South Carolina where Pipkens came in 9th place with 58 lbs. 2 oz. This was quite the feat, as he was basically fishing one handed!
Back to back events in South Carolina was the next Elite event at Winyah Bay where Pipkens caught 13 lbs. 10 oz. for 62nd place.
Texas Fest at Lake Fork was next where Pipkens almost broke the 100 lb. mark with 90 lbs. 12 oz. and an 8th place finish. He lead both day 1 and day 2 weighing in his best 31lbs 15oz and 30lbs 15oz respectively.
The second Eastern Open at Lake Chickamauga, Tennessee took place after Texas Fest with another top 10 finish in 5th place for 49 lbs. 1 oz. On Day 2 of this event Pipkens smashed yet another 30lb bag!
Continuing his hot streak, Pipkens came in 6th place with 76 lbs. 10 oz. at the Elite series event in Guntersville, Alabama.
Another Eastern Open top 10 for Pipkens was held at the James River in Virginia where Pipkens landed a 9th place finish with 34 lbs. 3 oz.
Next, the Elite series went to the St. Lawrence River in New York where Pipkens top 10 streak came to a halt, in which he landed a 44th place finish and 35 lbs. 10 oz.
Cayuga Lake, New York brought Pipkens a 16th place finish with 53 lbs. 5 oz. for the second to last Elite series event.
The final Eastern Open was at Oneida, New York earning Pipkens a 17th place finish and 28 lbs. 8 oz.
Lake Tenkiller in Oklahoma was the rescheduled event, as the original date was during flooding in Oklahoma. Pipkens finished 42nd with 14 lbs. 12 oz.
Angler of the Year was at Lake St. Clair, Michigan where Pipkens finished 37th with 46 lbs. 14 oz.
Over all Chad had 3 top 10's in the Elite Series and 2 top 10's in the Opens. He caught a total of 565 lbs. and 8 oz. between the Elites and Opens. What an incredible year! Especially with the circumstances. Pipkens was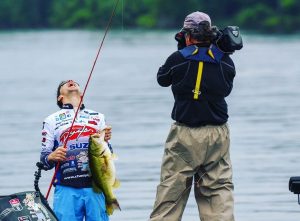 unsure at the beginning of March when he broke his collar bone if fishing the rest of the year was even an option. Now he is a Bassmaster Classic qualifier for 2020! Determination, optimism, and perseverance lead Pipkens to his success after overcoming obstacles. This will be Chad Pipkens 3rd Bassmaster Classic appearance since he has qualified for the Elite Series. This event is held in Birmingham, Alabama March 6th-8th. It is the 50th anniversary for the event so don't miss it!