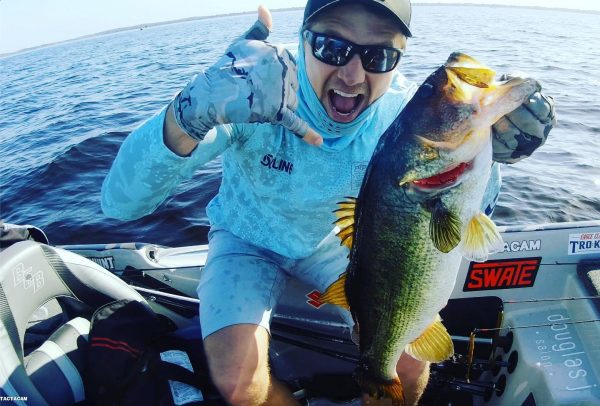 Let the fishing begin! Off-season came and went, and the 2020 fishing season has already begun. For some, it won't start until the beginning of February, but the Bassmaster Opens had its first tournament mid January (15th to 17th) in which Pipkens competed. This tournament, a part of the Eastern Opens series, took place at the Kissimmee Chain, specifically Lake Toho, in Florida. Pipkens is competing in all four of the Bassmaster Eastern Opens this year, as well as the Bassmaster Elite Series which begins at the beginning of February back in Florida.
With it being his first time on water in 2020, Pipkens was excited to get down to Florida and get into the fishing mindset. He had a few days of practice, which consisted of off shore fishing on hydrilla beds, which led him to few, but big, bites. "I didn't really know a lot about the places I was fishing yet, but was looking forward to getting into the tournament to really dissect it. I wasn't getting a pile of bites in practice but it was getting a little better each day. The nice thing was that about every 3 bites there would be a three to six pounder on the line." He figured he needed about a half day longer on the water to really dial it in and figure out the areas that were going to be more consistent for the tournament.
Day one on Lake Toho came especially early for Pipkens, as he was boat number 3 out of 225. Unfortunately it started off slow, and the only good bite he had before 11 was a 2.5lber that came off at the boat. His first catch made up for it though, being a 5 pounder, which he would follow by catching a total of 6 keepers and a total weight of 11 lbs. 14 oz. Pipkens was disappointed he was not able to take advantage of his early boat draw, however was feeling confident that day two would be promising, as he would have a longer day to fish and the afternoon bite seemed to be getting strong.
Pipkens had a better start to day two, reaching a limit around 10am, which included a 4 pounder. After running around multiple areas on Lake Toho, Pipkens culled multiple times throughout the day and caught around 20 keepers. "I thought with getting 20 bites and the style of fishing with a jerk bait and big worm, that every few bites should have been a good one. My coangler mimicked what I was doing and had only 4 bites with 3 of them being 3 to 4 pounds." Pipkens ended up in 44th place out of 225 anglers, and a total of 24 lbs. 11 oz.
Looking back at the tournament, Pipkens felt like he made the right decisions and had a great event, but was just a little unlucky on getting that big Florida bite. Pipkens likes to fish the Opens Series as a test run to make sure his equipment is in order, and most importantly to get mentally ready to make the decisions on tournament day fast and efficiently. Overall, he was happy with the tournament and glad to of worked out some kinks before starting the Elite Series, which he is looking forward to start this upcoming week in Palatka, Florida.