After the practice I had, I really thought like I was going to have my chances at this one. The first day of practice had the water in the low 60s, and the fish were on the move. I saw many fish up shallow, and the clues were looking good to stay shallow and catch big ones!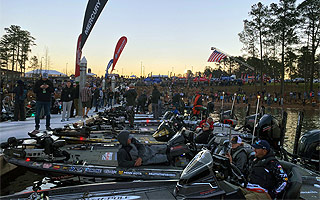 After shaking off a few big ones it seemed like they were getting ready to spawn. I committed to this as well as the morning bite with the herring in the ditches. The cold rain Sunday and colder temperatures didn't allow this plan to develop.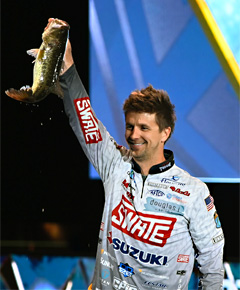 By our official practice day on Wednesday the water had fallen from 61 all the way down to 53. Some fish still stayed up but the majority did not come up like I had thought they would.
I had a slow start the first day of the Classic with fish not committing and only following the bait while chasing those spotted bass in the ditches. I made a couple good adjustments later in the day to catch two big largemouth, one over 4 pounds and another close to it. This gave me good confidence going into the second day, but things always change!
I started the second morning off much better than the previous day. I caught upwards of 25 or 30 fish with only two of them close to 3 pounds. Decent start, but then I just never put myself around those good fish in the afternoon. I noticed there wasn't anymore new fish moving up into the areas I thought they would.
A lot of fun catching a lot of fish, but one of these times I'm gonna catch the right ones on the right days! I ended up catching around 26 pounds for a two day total, finishing around 36th. Next time we need to break into the top 10!