Pipkens Gets Out of Florida with Two Saturday Cuts and a Great Start!
The Harris Chain was a blast for Pipkens! After spending much of his practice time driving around the lake looking for the right ingredients, CPiP had a great event! Florida is all about finding the right vegetation, areas where the bass will be coming and going, and that's exactly what he did.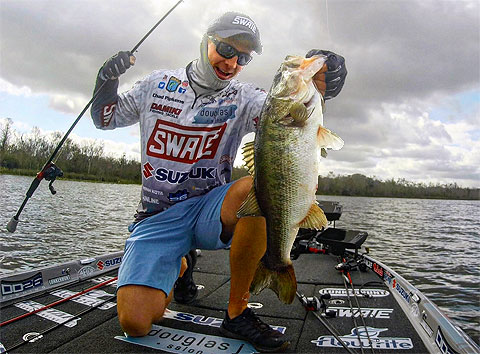 Chad got off to a great start on day one catching 14 lbs. 12 oz! He was fishing scattered beds of Hydrilla, and clean bottom areas with a big worm. Day one yielded over 30 keepers, but he had five fish that were all in the 3 pound class. He never got any of those Florida big bites. It was only a matter of time…
After not catching a single 4 pound fish the first day, Chad's first fish on Friday morning was over 4 pounds – a great start! He added another fish over 5 pounds to that around lunchtime! Just as he did day one, he caught around 25 or 30 keepers, and had a great time! His day two weight – 17 lbs. 11 oz – moved him up into 25th Place, and into the Saturday cut!!
Day three brought a high-pressure system with a little front, which caused the fish to bite very weird. Out of the first 15 bites he had, he probably only caught five or six of them. Most of them were taking the worm off the hook or just hitting it, and not even getting the bait. It was very frustrating! Late in the day the sun was out and the fish started to eat better. Pipkens added another 10 or 12 keepers to his day with a solid three and 4 pound fish to give him a 13 lb 11 oz total, and a solid 30th place finish.
Not a bad way to start the season with two cuts in Florida, which has been a pain for Pipkens in the past! Now, let's keep it rolling into the Bassmaster Classic!!