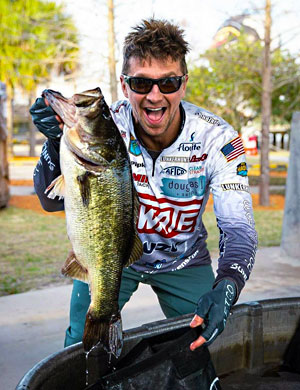 When you come to Florida the bite can be extremely hit or miss. Here one day and gone the next. Often, a big bite is what makes the difference. It can be one of the most difficult places to protect because the fish move in and out so frequently and so quickly.
Throughout practice Chad had located a good staging area with some larger fish using it. Outside of this area, the bites were few and far between. CPiP did manage to catch some small keepers at Rodman lake, and a three, but it was his day one catch in the staging area that made a difference.
Pipkens started it off the first morning of the tournament with the bass on a jerk bait that was just under 8 pounds. That set the tone as he knew it was the big bite he needed! Pipkens added a couple more small keepers in the next two hours on the jerkbait before having a five hour lull with zero bites. He tried to force the jerkbait bite to get one more good one but it was a no go.
With a couple hours of fishing left Pipkens made a key adjustment. He believed the fish moved up to spawn so he started targeting some isolated hard cover just off the bank. The next hour yielded two fish around 3 pounds, with an additional fish in the 4 1/2 pound range. This gave him a 19 lb. bag, setting him up in eighth place for the first day.
The second day was all about survival. After having three bites in the first four hours or so, not a single one was boated. Pipkens needed a couple fish to make the cut, so he left his area and went to fish the river blindly. CPiP managed two small keepers, which was enough to slide him into the top 47 cut for Saturday! After catching a small 7lb 4oz limit on Saturday, he finished 44th, and escaped the first event with a great paycheck and some good points!