Tag: detroit river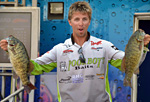 After winning Beaver Lake from the back deck, Chad Pipkens stepped up in his first FLW Tour event from the front deck finishing third at Detroit River with a total weight of 77 pounds, 14 ounces.
Professional bass angler Chad Pipkens earned a 2013 Elite Series spot by winning the 2012 Bassmaster Northern Opens points championship with consistent high finishes at the three events.
Chad Pipkens of Holt, MI weighed a 5 bass limit of 20 pounds, 4 ounces to take 3rd place in the Walmart BFL event on the Detroit River July 14th.