Tag: ghost shad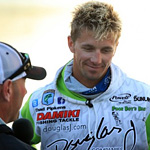 Chad Pipkens bagged his first top ten finish with 10th place at the St. Lawrence River Showdown Sunday, August 11. Pipkens completed four days in New York with 20 bass weighing 76 pounds.
Chad Pipkens presents a few of the most interesting and innovative new lures from Damiki at ICAST 2013 in this video including the Ghost Shad.
Chad talks about the the new Damiki Ghast Shad 5 with tbrinks fishing at ICAST 2013 including the design, features and bass fishing applications.