Author Archive: Editor
ChadPipkens.com news editor.
Chad Pipkens of Holt, MI won the co-angler title and $25,000 with a three-day total of nine bass weighing 22-15 at the Beaver Lake FLW Tour Major event.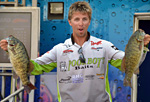 After winning Beaver Lake from the back deck, Chad Pipkens stepped up in his first FLW Tour event from the front deck finishing third at Detroit River with a total weight of 77 pounds, 14 ounces.
Professional bass angler Chad Pipkens earned a 2013 Elite Series spot by winning the 2012 Bassmaster Northern Opens points championship with consistent high finishes at the three events.
Chad Pipkens of Holt, MI weighed a 5 bass limit of 20 pounds, 4 ounces to take 3rd place in the Walmart BFL event on the Detroit River July 14th.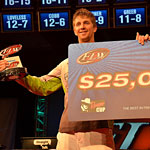 Chad Pipkens has always been a competitive FLW Tour co-angler today closing the book on his co-angler career by winning on Beaver Lake, the third Major of the season.
Welcome to ChadPipkens.com official website of Holt Michigan Elite Series Angler Chad Pipkens. Please bookmark us and check back often for more exciting news and information!