Author Archive: Editor
ChadPipkens.com news editor.
Chad Pipkens gets some good Bassmaster Elite Series Delaware River tournament coverage in the day 1 recap video. Pipkens finished day 1 in 6th place with a 5-bass limit weighing 11 pounds 4 ounces – August 7, 2014!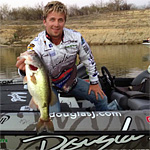 Professional bass fisherman Chad Pipkens is teaming up with Douglas J for a charity Couples Sport Raffle to benefit JDRF. There will be one winner.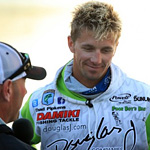 Chad Pipkens bagged his first top ten finish with 10th place at the St. Lawrence River Showdown Sunday, August 11. Pipkens completed four days in New York with 20 bass weighing 76 pounds.
Bassmaster Elite Series angler Chad Pipkens crosses the weigh in stage on day one of the 2013 St. Lawrence River Showdown with 20 pounds 4 ounces of smallmouth bass.
Chad Pipkens presents a few of the most interesting and innovative new lures from Damiki at ICAST 2013 in this video including the Ghost Shad.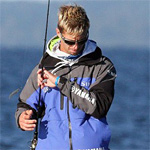 Chad Pipkens is fishing his first Bassmaster Elite Series final after vaulting into 4th place on the St. Lawrence River. Chad is one ounce out of 3rd place with a three day total of 60 pounds 7 ounces.
Chad talks about the the new Damiki Ghast Shad 5 with tbrinks fishing at ICAST 2013 including the design, features and bass fishing applications.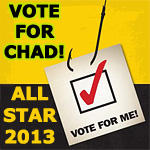 Chad Pipkens needs your Fan Favorite Angler vote for the 2013 All-Star Week tournament! You will also have a chance to win a 2014 Toyota Truck!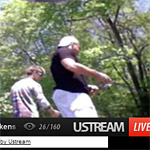 Chad Pipkens and Scott Weaver are fishing LIVE on video from 9AM until 7PM, Earth Day April 22 2013, to benefit the Alliance for the Great Lakes!
What do bass pros Chad Pipkens, Brandon Card and Kevin Hawk do when a tournament's postponed due to storms? Watch this April 18, 2013 video from the Bassmaster Bull Shoals Lake Elite Series tournament to find out!