Author Archive: editor
Mel Pipkens is Chad Pipkens' wife.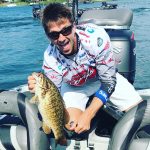 One of the greatest small mouth fisheries on the schedule for 2018 is Waddington, New York on the St. Lawrence River. In July 2017, the winning weight over the four day tournament exceeded 90 pounds, which showed just how spectacular this upstate New York body of water can be; however a month and a year later the fishery continued to prove itself with Josh Bertrand's winning four day total of a whopping 95 pounds 3 ounces.
With all of that being said, the St. Lawrence event turned out to be the worst event of the season for Pipkens. Having a strong, successful history in the north and a preference for fishing small mouth, this was a tough one for Pipkens — and the fish — to swallow. The past three times the Bassmaster Elite Series has stopped at the St. Lawrence River, Pipkens has made the top 50 cut, placing 10th, 32nd, and 48th (2013, 2015, 2017, respectively). Unfortunately, this was not the case in 2018.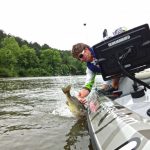 Chad talks with Seven Stripes Fishing about his experiences as a Bassmaster Elite Series angler and the road it took to get there. Dedication, hard work, and a couple of extra-curricular activities, like refereeing hockey and residential painting along the way, lead him to his professional fishing career.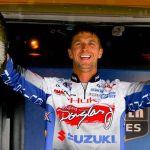 When it rains, it pours… bass!! Although there were wet and rainy conditions at the Bassmaster Elite Event in La Crosse, Wisconsin, it didn't stop Chad Pipkens from catching them. Check out the full article here.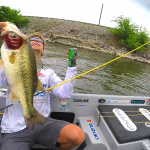 Chad Pipkens lands a giant bass that helps him earn 27th place at the Bassmaster Elite Series Event in Kentucky Lake, Tennessee. He catches a three day total of 47 pounds 3 ounces.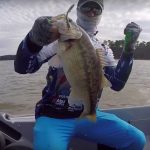 First stop of nine for the Bassmaster Elite Series at Lake Martin, Alabama. Chad Pipkens starts the season off right by making the top 50 cut and, unlike most people, is happy to "work on Saturday." 
With a final weight of 32lbs. 3oz. Chad earns himself 41st place and a good start to the 2018 fishing season.