Tag: bassmaster elite series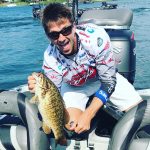 One of the greatest small mouth fisheries on the schedule for 2018 is Waddington, New York on the St. Lawrence River. In July 2017, the winning weight over the four day tournament exceeded 90 pounds, which showed just how spectacular this upstate New York body of water can be; however a month and a year later the fishery continued to prove itself with Josh Bertrand's winning four day total of a whopping 95 pounds 3 ounces.
With all of that being said, the St. Lawrence event turned out to be the worst event of the season for Pipkens. Having a strong, successful history in the north and a preference for fishing small mouth, this was a tough one for Pipkens — and the fish — to swallow. The past three times the Bassmaster Elite Series has stopped at the St. Lawrence River, Pipkens has made the top 50 cut, placing 10th, 32nd, and 48th (2013, 2015, 2017, respectively). Unfortunately, this was not the case in 2018.